Embrace a cost-effective approach
to patient-centered primary care
The new era of healthcare isn't about cherry-picking siloed products and praying for positive results. It's about making the strategic partnerships with people you can trust. People who've been at this a long time—helping practices like yours, to maintain business continuity, reduce overall cost, and ultimately improve patient outcomes.
Equip your primary care providers, staff with the right tools to enhance the clinical experience. With a complete view of patient health on one record, a robust practice management solution, and the ability to meet with your patients virtually, providers can streamline care coordination, reduce gaps in care, collect every dollar you're owed, and generate positive patient outcomes.

Before the visit

Check-in

During the visit

Checkout

After the visit
Freedom to practice the way you want
Watch a primary care demo to see how you can satisfy quality measures and remove distractions that get in the way of care.
A community accommodating primary care among more than 105,000 healthcare professionals
The Primary Care group of the Success Community is your single online destination for solution support, documentation and educational resources, and training. You can visit the community to vote on product enhancements, collaborate with other clients in our chatter forums, and stay up to date on solution news.
Automatic primary care insurance eligibility checks
Our primary care practice management software solutions automate billing, statements, and claims—at all times, potentially reducing the check-in process by six minutes per patient.
Integrated vendor-agnostic interoperability for primary care practice management
Using your primary care EHR solution, you can quickly connect with colleagues, patients, hospitals, and systems not from NextGen Healthcare.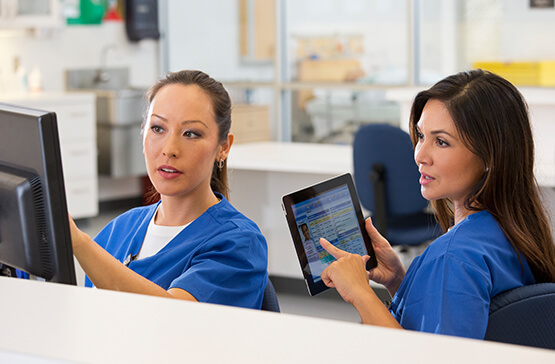 Make the PCMH transformation
EHR is essential to your transformation into a patient-centered medical home (PCMH). Take advantage of rich functionality, robust reporting, and NCQA "auto-credits".
Touch, talk, or type functionality within a primary care EHR
You can complete a subjective, objective, assessment, and plan (SOAP) note—from start to finish—on your iPad or iPad Mini. Our solutions let you access patient records and chart from anywhere, and all you need to do it is the internet.

Watch NextGen® Office EHR demo
Read our "The impact of patient financial satisfaction on the independent medical practice" white paper
How we help
We provide tailored solutions to fit the precise needs of ambulatory practices, as they strive to reach the quadruple aim while navigating the journey of value-based care.