Specialty
Primary care
Healthcare reform is leading primary care practices into consolidated models, with increasing compliance requirements. Our intuitive primary care EHR and practice management solutions are tailored to your practice to help you navigate these needs. Automate and run your practice more efficiently with a cloud-integrated clinical and financial-focused solution. Streamline workflows to enhance the patient experience. Improve billing efficiencies and reduce claim denials.
Tom Farmer
NextGen Healthcare specialty director, primary care, tribal health, community health, and PACE
Tom has dedicated himself to improving the caregiver and patient experience for the past 30 years. His passion: finding solutions that help improve productivity, care, and your bottom line.
Get in touch with Tom
I frequently travel, making secure access to a patient's history via the internet extremely important. I need to approve medication issues from anywhere. If I have to admit a patient in the middle of the night, having access to the latest patient chart from home allows me to offer better quality of care. NextGen Healthcare delivers on all points.
Dr. Justin D. Puckett
Complete Family Medicine, LLC
Practice the way you want
Primary care solutions tailored to your needs
Working with NextGen Healthcare, you can choose from integrated primary care EHR and practice management software solutions specially designed to support your practice.
Learn how primary care electronic health records (EHRs) and electronic medical records (EMRs) are different
Before the visit
Schedule well-visit appointment reminders to be sent annually. With these reminders, prompt patients to bring their insurance paperwork. Keep the appointments, and save up to $150,000 yearly.
Check-in
Reduce clicking and time spent on check-in. Gain these benefits by viewing patient responses to clinical information and securely transferring completed forms and questionnaires to the patient record. Communicate better and improve patient satisfaction.
During the visit
Take advantage of mobility to document your patient's visit, and completely finish documentation by your next appointment.
Checkout
Make sure the referring provider receives documentation while sending it in real time using integrated interoperability. Quickly view your schedule and clinical data on your phone.
After the visit
Empower patients to invest in their health with the ability to easily access patient education, lab results, and payment options online. Cater to the 68% of patients who prefer engaging online with medical practices.
Freedom to practice the way you want
Watch a primary care demo to see how you can satisfy quality measures and remove distractions that get in the way of care.
A community accommodating primary care among more than 105,000 healthcare professionals
The Primary Care group of the Success Community is your single online destination for solution support, documentation and educational resources, and training. You can visit the community to vote on product enhancements, collaborate with other clients in our chatter forums, and stay up to date on solution news.
Automatic primary care insurance eligibility checks
Our primary care practice management software solutions automate billing, statements, and claims—at all times, potentially reducing the check-in process by six minutes per patient.
Integrated vendor-agnostic interoperability for primary care practice management
Using your primary care EHR solution, you can quickly connect with colleagues, patients, hospitals, and systems not from NextGen Healthcare.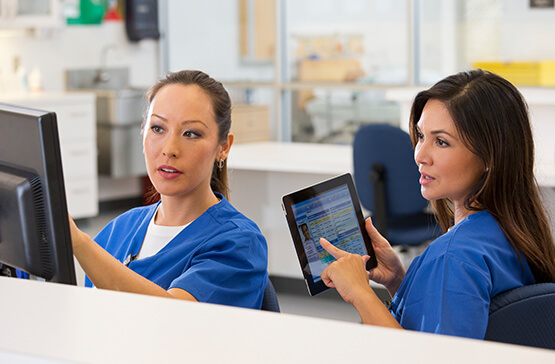 Make the PCMH transformation
EHR is essential to your transformation into a patient-centered medical home (PCMH). Take advantage of rich functionality, robust reporting, and NCQA "auto-credits".
Learn more about Certifications here
Touch, talk, or type functionality within a primary care EHR
You can complete a subjective, objective, assessment, and plan (SOAP) note—from start to finish—on your iPad or iPad Mini. Our solutions let you access patient records and chart from anywhere, and all you need to do it is the internet.

Watch NextGen® Office EHR demo
RCM Services and NextGen® Financial Suite
Improve financial and clinical performance, maximize opportunities to increase revenue, correct operational inefficiencies, and elevate outcomes across the true revenue cycle.
Revenue leakage
$125B
is left on the table by doctors in the United States every year
Claims processing
65%
of denied claims, on average, are left unresolved by practices
Lost income
25–30%
of medical practice income is lost due to improper billing
Read our "The impact of patient financial satisfaction on the independent medical practice" white paper
How we help
We provide tailored solutions to fit the precise needs of ambulatory practices, as they strive to reach the quadruple aim while navigating the journey of value-based care.