Top Trends for Ambulatory Practices in the New Era of Healthcare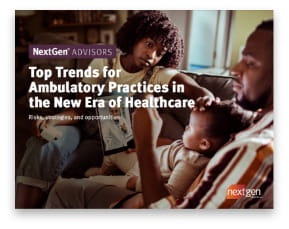 Position your practice for a sustainable, successful 2021
With the first reported death in the U.S. on February 28, 2020, the world turned upside down, and providers' response transformed the pandemic into a watershed event for the healthcare industry. As significant trends shape ambulatory care, there'll be new risks and opportunities.
Discover what actions you can take to ensure you get every dollar you deserve. From front-office processes to back-office operations, this guide explores seven revenue-driving best practices to help you thrive and grow.
This E-book examines healthcare trends from four perspectives:
Healthcare marketplace
Patient's perspective
Clinical model changes
Healthcare business changes
Understanding the direction healthcare is going can help you refine your strategy and position your practice for a sustainable future.
"Effective integration of nurse practitioners and physician assistants will continue to be a recommended approach particularly in areas of physician shortage."
—Excerpt from Top Trends for Ambulatory Practices in the New Era of Healthcare