Improve the Quality and Efficiency
of Care Delivery
Free yourself from administrative burden and deliver high-quality, personalized care with our comprehensive clinical solutions that you can customize to suit your practice. Automate patient intake, streamline clinical workflows, and leverage vendor-agnostic interoperability that support you in achieving quality measures and qualifying for incentives.
KEY CLINICAL CARE CAPABILITIES
Click for details
fact
80%
of physicians are overextended or at capacity, with no time to see additional patients
fact
1.5
hours are spent on after-hour documentation daily within the EHR system
fact
49%
of physicians' office hours are spent on EHR and desk work
Read our Simple Guide to Thrive in Today's Changing Healthcare Industry
Learn to how to better engage your patients, improve staff satisfaction, and save resources while increasing revenue and responding to ever-changing regulatory demands.
Eliminate after-hour documentation
Dictate and document the patient visit at the pulse of patient care. Complete documentation by the time you see your next patient.

Learn about our mobile solutions
Promote employee retention
Reduce physician burnout by implementing productivity solutions to alleviate bureaucratic tasks and refocus physicians' efforts on patient care.

View flyer
Boost productivity: Document in two clicks
Quickly document the exam description, case management, and the treatment plan using previously saved specialty encounter defaults.

Learn about our EHR solutions
Use specialty-specific content
Enjoy integrated content that better aligns to your specialty workflow, and unique data capture and quality reporting needs.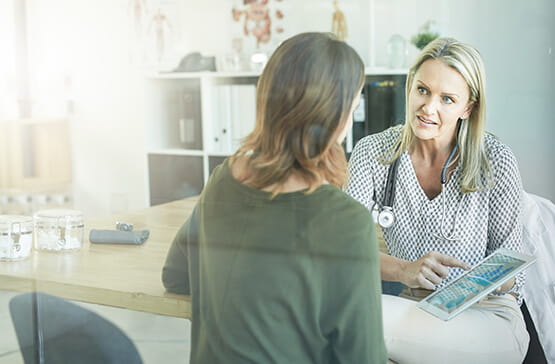 Adopt new care delivery models
Leverage certified EHR technology, analytics, and population health tools to achieve PCMH transformation and participate in alternative payment models (APMs) or payer-sponsored quality programs.

Read Insights page to learn more
Utilize a worklog manager
Deploy a rules engine that automates tasks and operational support to quickly and completely close encounters. Coordinate the correct tasks to the appropriate clinical or administrative team to streamline their workday.
Tailor your enterprise solution to scale
Scale your enterprise solution as quickly as your business grows. Travel to different locations to treat a variety of patients.
How much is turnover costing your practice?
Use this loss calculator to see the impact on your daily revenue:
Total spent recruiting:$2,000.00
Monthly lost revenue:$107,080.92
Total lost revenue:$109,080.92
Ready to streamline clinical workflow, reduce physician burden, and strategize for optimal practice performance?
How we help
We provide tailored solutions to fit the precise needs of ambulatory practices, as they strive to reach the quadruple aim while navigating the journey of value-based care.