On October 6, the Centers for Disease Control and Prevention (CDC) published a morbidity and mortality weekly report that contains encouraging news that community mitigation measures were found to be successful in reducing the spread of COVID-19. The CDC report comes as many areas of the country are experiencing increases in the number of COVID-19 cases and hospitalizations, with experts fearing that these increases may represent a second wave which could coincide with the upcoming flu season.
The following graphic shows the course of the COVID-19 epidemic in Arizona, along with key public health interventions overlayed on the same timeline. Arizona instituted a stay at home order on March 30, after which there was a very slow and gradual increase in the number of cases. By May 15, the stay at home order and other restrictions expired and businesses, restaurants, bars and gyms all reopened. Following this reopening, there was a steady and significant uptick in cases, with average daily new cases reaching 2,026 on June 15. In an effort to stem the rising cases, local governments instituted mask policies requiring and enforcing mask wearing. Bars, gyms, movie theaters and water parks were closed, and significant limitations were placed on indoor dining. These policies were broadly implemented and impacted about 85 percent of the population of Arizona. The average of daily cases peaked between June 29–July 2 at 4,377, with the new measures in place, numbers of new cases stabilized between July 3–12 and subsequently decreased an impressive 75 percent from July 13 to August 7, falling from 3,506 new cases per day to 867.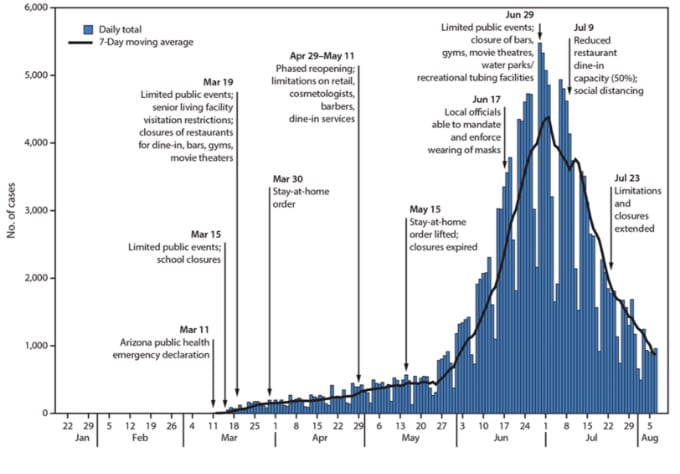 It is reassuring to see that a combination of public health measures correlated temporally with a dramatic decrease in the community spread of COVID-19. Interventions aimed at increasing social distancing by closing business venues in which social distancing is difficult or impossible, as well as the closure of those venues where large crowds gather, along with mandating and enforcing mask wearing did indeed work. It is important to recognize that the mitigation steps did not include sweeping, across the board closures of businesses and industry. The closures applied to a specific narrow segment of the Arizona economy. For those businesses impacted, this clearly represented huge challenges and inflicted significant financial losses, but thankfully these closures were limited and focused in scope.
The authors of the report outline some cautions regarding the data in the report. The data does not support concluding clear causality, as this was an observational study and not one designed to provide evidence sufficient to prove causality. There were clearly challenges with some of the data derived from health care systems reporting numbers of new cases. The authors also raised concern regarding the applicability of these findings to other states with different demographic and geographic characteristics.
In spite of the limitations of this study, it does provide quantitative data that supports the efficacy of public health mitigation efforts in reducing unchecked community spread of COVID-19. As we go into the fall and winter with flu season starting, it is reassuring to know that relatively simple public health steps play a significant role in reducing the numbers of infected COVID-19 patients.
For more information regarding COVID-19 and financial resources available, please visit our COVID-19 Resources page.
Meet NextGen Ambient Assist, your new AI ally that generates a structured SOAP note in seconds from listening to the natural patient/provider conversation.
Read Now