Corporate Citizenship
NextGen Cares
At NextGen Healthcare, we believe in better in everything we do. United for Better reflects our vision to make communities vibrant and ensure promising futures for all, within our company and around us—today, tomorrow, and for future generations.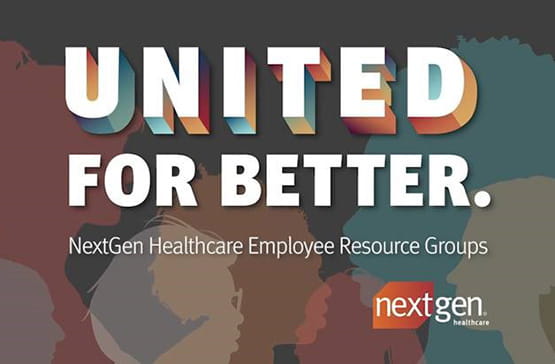 Empowering confidence and unity for the better
Employee Resource Groups (ERG) are voluntary, employee-led communities that foster a diverse, inclusive workplace aligned with our mission and business practices. ERGs form around common background, interests and issues to give a collective voice to our diversity and help create a best-in-class organization. Even the smallest change can make a difference in reinforcing a sense of belonging and supporting professional opportunities.

NextGen Healthcare Employee Resource Groups:
AAPI (Asian American Pacific Islander)
ABLED (Awareness Benefiting Leadership & Employees about Disabilities)
beiNG (Black Equity and Inclusion at NextGen)
Cultural Diversity
Generational and Allies
LatinX
LGBTQ+
Military/Veterans and Allies
Remote Engagement
Working Parents
Women-In-Tech
Watch this video to meet the NextGen Healthcare Employee Resource Groups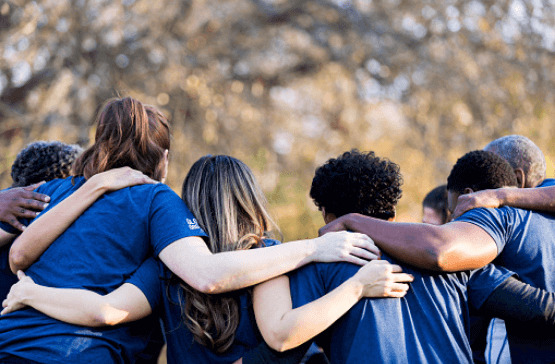 Sponsoring volunteer efforts
NextGen Healthcare encourages employees to support our communities by providing paid time off benefits for volunteering, also referred to as Volunteer Time Off (VTO). Team members may use VTO to contribute their time and talents to recognized charities, causes and not-for-profit organizations that make a positive difference in deepening community connections, both locally and globally.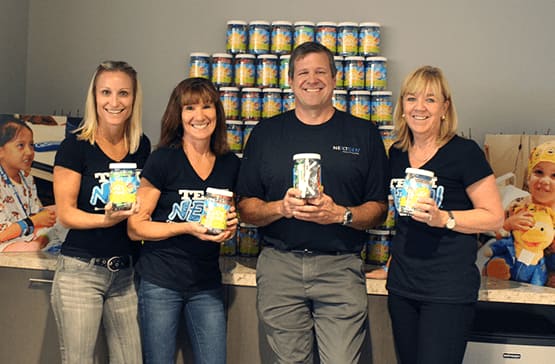 Making a child's day better
To support the Jessie Rees Foundation's work to help every child fighting cancer to Never Ever Give Up, NextGen Healthcare employees in Irvine and San Diego combined forces to build more than 500 Joy Jars. The jars were filled with toys and fun activities to bring smiles to courageous kids receiving treatment in hospitals.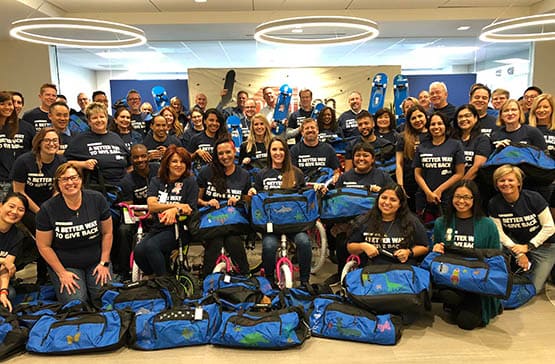 Team spirit makes a difference
NextGen Healthcare employees combine their time and talents to participate in the company's annual Days of Caring. In 2018, U.S. staff set aside time from their busy schedules to support Together We Rise, a nonprofit dedicated to transforming the way children experience foster care in America. Our teams assembled ten bikes and 70 skateboards, as well as packed 390 sweet cases to bring smiles and hope to boys and girls in foster care.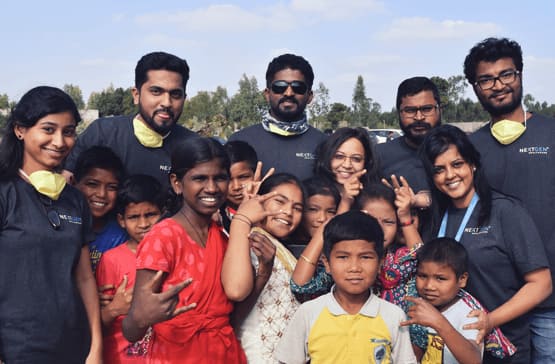 A day's work to help make a better future
Thayimane School in Bangalore, India, transforms the lives of underprivileged children through education. Approximately 100 NextGen Healthcare volunteers spent the day with the students to beautify their campus. In addition to having a time of fun cross-cultural engagement with the children, they displayed their green thumb in the kitchen garden, installed a drip irrigation system and water tank, and refurbished the playground.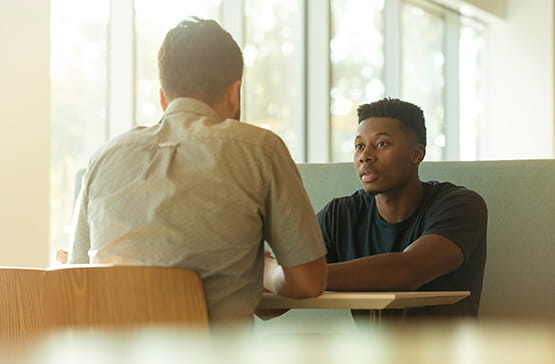 Employees provide safety net to co-workers in need
When an employee faces challenging times, they need not look further than to their NextGen Healthcare teammates. Employees can donate unused vacation time to colleagues to provide financial support for essential needs. Donated hours are converted to dollars and held in the NextGen Cares account for distribution to team members during times of personal hardship, critical illness or disaster.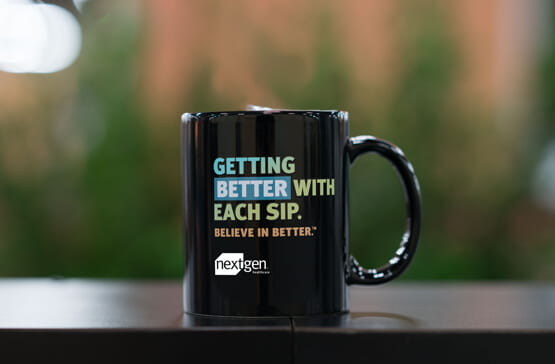 A better environment begins with a green office
At NextGen Healthcare, we believe in better for our employees and the environment. We embrace sustainable, environmentally-friendly office practices to reduce our carbon footprint. At our corporate headquarters in Irvine – an office that holds a LEED Gold rating from the US Green Building Council -- reusable beverage cups and shopping bags reduce paper waste. Kitchen areas feature recycling bins and filtered water dispensers to further conserve natural resources. And our emission reduction program encourages commuting alternatives, carpooling and use of alternative fuel vehicles to help meet air quality improvement goals. These are just a few ways we strive to keep our employees and Mother Earth happy and healthy.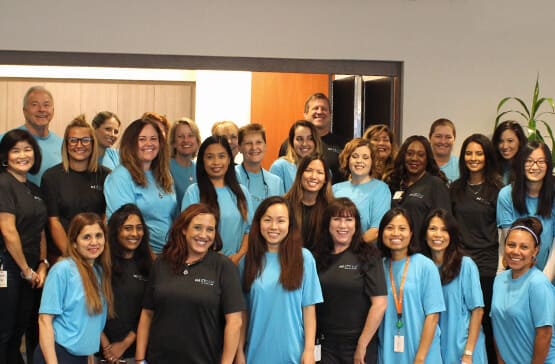 Engaging Our People and Driving Satisfaction
Our Voice of the Employee annual survey by McLean & Company measures overall satisfaction and engagement. With 80% of team members responding in November 2019, we place great emphasis on the survey findings. NextGen Healthcare consistently ranks above industry benchmarks for key indicators including a safe work environment, company culture, and positive coworker and manager relationships. Employee empowerment and work-life balance also rank high with lower ranking areas prioritized for improvement. We provide our team members with safe and confidential channels to voice concerns and receive a response, and ensure they have direct access to members of our executive leadership team.
Do you want to unite with us for better?
Visit our Career Site to explore job opportunities.