When nearly 39,000 people express their thoughts about the patient portal, there's enough data to draw some clear conclusions.
The feedback from an online survey and interviews* conducted by the NextGen Healthcare Research & Development department from February to May 2021 provided a mountain of data that included frequency of use and preferred portal features. The goal of the research is to better understand what consumers need to manage their healthcare more effectively.
Patients appreciate online access to view their medical records, schedule appointments, and communicate with their providers/doctors. It also makes refilling medications, paying bills, and managing other tasks more convenient.
Gender and age of survey participants

Survey Results
1. How often do patients log on to a patient portal?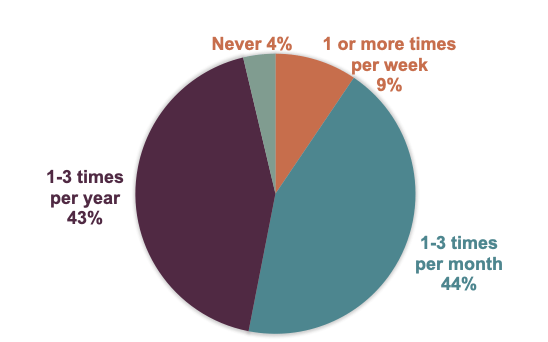 2. How do patients prefer to communicate with their healthcare provider?

It's worth noting that patients in their 50s prefer using the phone. People in their 30s and 40s who are comfortable texting will probably stick with texting as they grow older.
3. What's essential to patients using the portal? From most to least important.

4. What do patients see as secondary features?

The category indicating they "would like to use" could mean that the feature is not turned on in these patients' portals; they don't know it's there or how to use it. On the topic of how patients paid their bills when a similar population was asked to pay bills "online" instead of "in the portal," the responses changed significantly.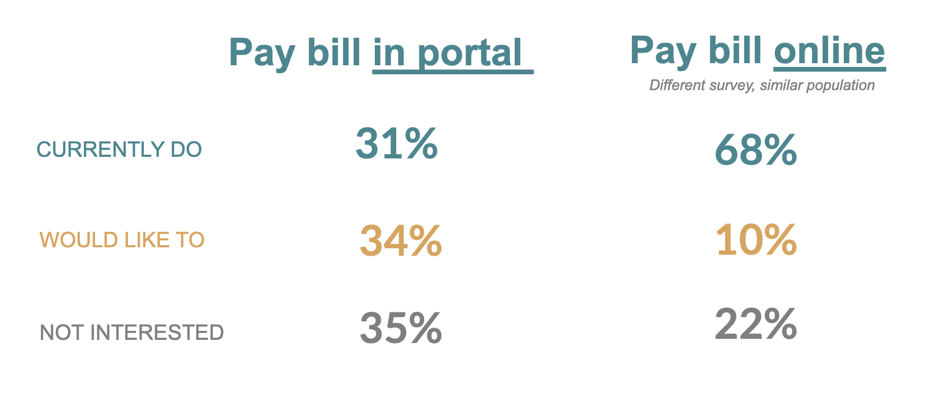 What other information do patients want to see on their practice's portal?

Patients want educational resources based on their charts and not depend on searching Google for information their care team should provide. Updates regarding prescription coupons and other savings would further benefit portal users.
Interview Results
As a follow-up to the survey, interviews and feedback from social media posts provided more insight into the portal features that patients regularly used. This group's age range varied between 30–35 and 50–75.
It was clear that messaging through the portal was important to patients. They felt it was better to access their practice anytime at their convenience instead of calling during office hours.
One interviewee said, "I'd much rather use a computer than pick up the phone. It's much more efficient instead of calling up and going through a list of five [prompts]."
Notifications keep people connected without having to call
Patients favor secure email/text notifications because it frees them from calling the practice or logging on to the portal to see if new information has been posted, such as lab results. However, patients can get weary of too many notifications unrelated to their immediate health condition.
Portal users appreciate receiving lab results online and comparing them with past results. An interviewee noted, "What I liked about it [the portal] was that it gave a visual result. It also compared my result with the measurement for the norm."
Providers' response time from patients' messages
Based on feedback from interviewees, promptness to respond to a patient's message does not mean right away. When asked how much they are willing to wait, patients noted that a response via secure messaging is fine by the end of the day or the next morning.
One interviewee said, "Phoning my primary care provider is not nearly as fast as when I send a message through their [portal] system."
Someone else said, "If I try to talk to my actual doctor, that is probably not going to happen, but if I send him or her a message [through the portal]… they get back to me within 24 hours."
Appointment scheduling
Almost all the patient portal users prefer online appointment scheduling instead of calling the office. When they schedule an appointment on their own, they appreciate the near real-time feedback or confirmation. Enabling a family member or caregiver to schedule an appointment for those unable to do it independently also ensures access to care at critical times.
Interviewee comments:
"If you are going to call me [about a requested appointment], I actually would rather deal with it on the portal."
"I get a response that my appointment was booked within a couple of minutes."
Medication refills
Patients take advantage of the portal to make online refill requests for themselves or a family member. It's easier than waiting on the phone and can be done at the patient's convenience outside of the practice's office hours.
One interviewee pointed out how requesting refills through the portal can be tracked, which is not possible through phone calls.
Vaccine information access
Patients and parents of younger patients found the portal useful for accessing vaccine records. This comes in handy when schools request this information at a moment's notice.
In summary, patients use the portal to:
1. Access health records and lab results
2. Communicate with providers
3. Refill medications, update personal information, and schedule appointments
Portal users' comments:
"It's information; it's convenience...it gives me a greater sense of control over my medical information."
"I love the ability to look up things when I don't remember what the doctor told me."
"The less I have to walk into a doctor's office or call, the better."
An integrated patient experience platform can help increase convenience for patients and improve practice efficiency. See these case studies to learn more about the benefits.
*Not all of the patients interviewed used NextGen®️ PxP Portal.
Meet NextGen Ambient Assist, your new AI ally that generates a structured SOAP note in seconds from listening to the natural patient/provider conversation.
Read Now