As practices around the country begin filling their schedules again, now is a grand opportunity for patient outreach targeted to those individuals who may be hesitant to seek care and for whom a face-to-face encounter is appropriate.
The Health Research Institute of PwC recently conducted a nationwide survey of consumers, finding the COVID-19 pandemic is influencing consumer health behavior in potentially problematic ways, with over 30% of respondents indicating they already have or plan to adjust spending on healthcare visits. A further 22% of respondents noted they plan to or have adjusted spending on medications (see figure).1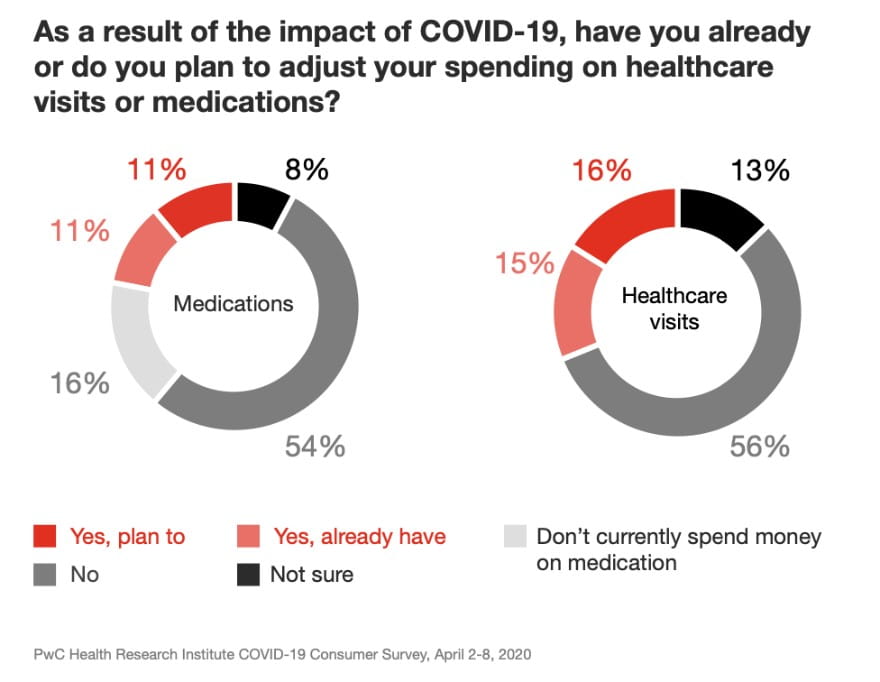 As the authors appropriately note, delaying procedures, reducing spending on preventive care and chronic care, and decreasing adherence to medications may have negative long-term impacts on health status.
A recent model put forward by healthcare policy experts at the Chartis Group3 suggests in the near-term, the distribution of patients who will seek care because of an acute condition is about 10%, while 70% may be hesitant to seek care, an additional 10% will be reticent to seek care and the final 10% of patients will not seek care at all. These results are not surprising given the recent U.S. Department of Labor report2 showing the advance seasonally adjusted insured unemployment rate was 15.7 % for the week ending May 2. This startling figure, accompanied by a spike in the number of newly uninsured suggests a significant section of the population may be delaying and deferring necessary care.
Given this state of affairs, providers may need to do more than let their patients know that they're available. Practices can leverage automated outreach tools such as direct messaging, portals or email surveys to develop a profile on their patients' likelihood to seek care. Such a profile can inform them about the specific concerns their patients have and guide proactive communication strategies to alleviate those concerns. All patients will want to know how their care will be delivered and be reassured that their safety in going to the clinic environment is paramount. They will also need to be educated on those changes in the visit process that have been put in place to ensure everyone's safety. For patients who have lost coverage, providers may need to guide them to Medicaid enrollment or affordable insurance options in their state.
A natural starting place for targeted outreach is the existing backlog of patients whose care has been delayed due to the pandemic. Patients with chronic conditions who require ongoing monitoring may be able to have a portion of their provider visits conducted by telemedicine or a virtual visit. However, for those with complex care needs or multiple co-morbidities, face-to-face visits may be critical. Population health tools with integrated solutions are particularly well-suited to this task as they enable care managers to target the highest priority patients for care team interventions, notify patients of care gaps, and support outreach efforts integrated with the provider workflow and electronic health record platform.
In a prior blog post, we examined the gating criteria which should be satisfied prior to proceeding with a phased comeback, including among other measures, increases in testing, available hospital capacity and contact tracing, sufficient isolation facilities and personal protective equipment. Whether those criteria have been met or not, all 50 states have now begun a phased re-opening of businesses. Practice leaders who proactively undertake outreach campaigns across multiple communication platforms will have the best chance of allaying the fears of their patients and re-engaging those high-risk individuals who may be delaying care or not adhering to their care plan with possible deleterious effects.
1https://www.pwc.com/us/en/library/covid-19/assets/pwc-us-health-covid-19-survey_chartpack.pdf
2 https://www.dol.gov/ui/data.pdf
3https://www.chartis.com/resources/files/After-the-Surge-Five-Health-System-Imperatives-in-the-Age-of-COVID-19.pdf
The financial and clinical challenges you face now are evolving rapidly. Here are resources, solutions, and ideas we think will help.
Read Now