An all-in-one, cloud-based, clinical and
billing solution for independent practices
Schedule a live demo with one of our experts to understand how you can:
Managing everything from patients to running a successful business is no easy feat in today's healthcare marketplace. NextGen Office—a cloud-based EHR that includes specialty-specific content, a claims clearinghouse, and an easy-to-use patient portal—is specifically designed for physicians and staff of independent practices. Watch a demo to learn efficient ways to manage your workloads and workflows and deliver the best care possible.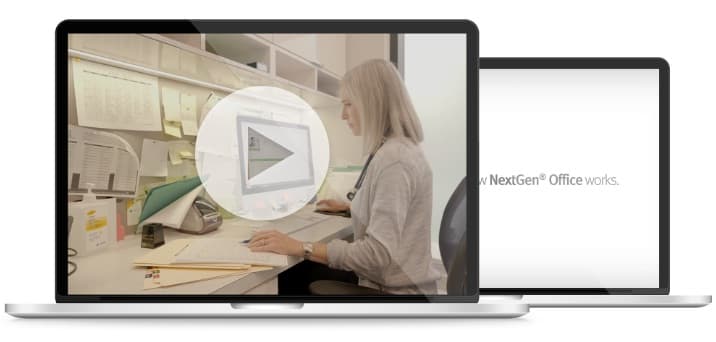 Better workflows with integrated capabilities
A web-based EHR that offers e-prescribing, connections to major labs, room status dashboard, and a patient portal. Consolidate patient data, billing, and reporting workflows.

Cloud-based and optimized to work on any device or platform
Compatible with any tablet, desktop, or laptop—touchscreen-enabled, ONC-Certified, and HIPAA-compliant.
Fully integrated practice management and clearinghouse access
Devote more time to patients by simplifying medical billing processes. Access revenue cycle management services to support staffing and claim denial management.

Communication and outreach
NextGen® Office supports text and email appointment reminders, direct messaging, and e-faxing, as well as virtual visits through the patient portal.
Easy-to-use reporting and analytics
Get a clearer picture of practice performance with integrated financial analytics, and improve compliance with a MIPS reporting dashboard.
Our knowledgeable support team backed by our industry-recognized accolades can help you succeed
NextGen Office, formerly known as MediTouch, was founded in 1998. Over the past 20+ years, our team has built a technology solution recognized for providing the best tools to help medical practices achieve better results and improve patient care.